It really appears insurmountable, & the process stops and starts, but when you begin to take this course, to move in a different way with the psychology & the physiology finally finding 'right relation' to one another, the magic begins show itself, it just takes time – then one day, everything clicks into place, & that's a miracle — you've actually 'midwifed' that natural interconnectivity for yourself!
I received this message from a person I have never met or communicated with. She had engaged in learning the tools to heal.
The key to healing mental and physical pain happen from learning two separate sets of skills. The first is separating identity from your necessary survival circuits, developing a "working relationship with them. The second is shifting your brain onto more enjoyable and functional circuits. You cannot experience play and joy will simultaneously fighting pain.
You also cannot heal your body, including your brain. It already knows how to heal, and the healing stories are nothing short of miraculous. But life itself is a miracle. Our conscious brain gets in the way and blocks healing. You only must believe your body can heal, let go, and allow it to occur. Her email is typical of what happens, and the healing is deep and transformative.
Not fixing yourself
One of the most difficult challenges is letting go of trying to fix yourself to rid yourself of the mental and physical pain. Why wouldn't you? You are trapped in miserable place without an apparent way out. It is bad enough enduring the pain, but when you get angry about it, you have now doubled down, and your brain is really on fire. Dr. John Sarno, a famous physiatrist and author used the term "rage".1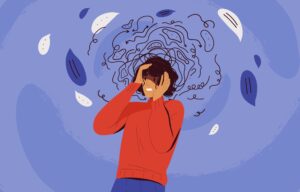 However, trying to solve the pain places your attention on it and reinforces it. But when you try not to think about your pain or distract yourself, the thought suppression inflames your brain even more. Either way, you are trapped. Specifically considering self-esteem, which is an endless set of judgments, trying not to be judgmental is impossible. Positive thinking is another form of suppression. Even reading self-help books is another way of staying focused on the problem. Even with my books, there is a tipping point where I recommend people stop reading them and focus on practicing and implementing the tools they have learned.
"Phantom Brain Pain"
There is the additional problem of thinking that something is being missed, and these thoughts become independent sets of circuits. They really are not responsive to reason, and the ongoing pursuit of reassurance only reinforces them. Along with all RUTs (repetitive unpleasant thoughts), I call this phenomenon, "phantom brain pain." In my mind, the same issues are in play as phantom limb pain, where the suffering is intense, and you cannot even touch the absent limb to calm yourself. How can this happen. The known "source" of pain is completely gone, and the patient still feels the limb and the pain. So, where does this pain exist?
The key to healing lies in separating from your racing necessary survival circuits, developing a "working relationship with them, and dynamically shifting your brain into more enjoyable and functional circuits – and letting go. You cannot experience play and joy while simultaneously fighting pain.
"I give up"
I vividly recall feeling like I was in the midst of a major battle with unpleasant thoughts. The mental pain was a much bigger problem than my physical symptoms. I was never bothered during surgery with them in that I was so focused on what I was doing. For a long time, I was also fine in clinic while I was connecting with my patients. Towards the end of my ordeal, even being at work did not help, and I was pummelled every two or three minutes with ever-increasing intense, intrusive, and vivid thoughts. Meanwhile, I was trying everything possible to deal with them, including working with a psychiatrist. Nothing helped and in fact, it all seemed make things worse. It was around this period where I came close to committing suicide.
One evening, I had read yet another self-help book and I had a flash of a vision that I was standing in front of a repeating circus mirror. I can still see it. It was about six feet high, and it was in a tent. I was looking at endless images of myself. At that time, I was doing what felt like hand-to-hand combat with my thoughts. I would have a disturbing thought, and then counter it with a "good" thought. I was wearing down quickly. I could see that there was no rational solution to these RUTs. I said to myself, "I can't do this anymore and I quit." I felt my identity was stripped down to nothing and felt there was little left of what I thought was me.
I honestly gave up and was not sure what I was going to do next. Instead of feeling despondent, I felt a strange sense of freedom, and it turned out that "giving up" the fight was the right answer. It was after that moment, things began to change for the better. I had much to learn, but at least I had inadvertently created some "space" in my brain to allow healing to begin.
Hope
This is a link to a collection of patients' success stories that I call, "Stories of Hope." Essentially everyone who is trapped in the Abyss of chronic pain is in a very dark place. Knowing you are not alone is important.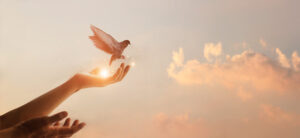 It is impossible to let go of "fixing" without the tools to accomplish it and also learning how to feel safe. You can't force it and as per her email, you just have to keep moving forward, and it will happen when you are ready. I also wish for you that it happens sooner than later, but persistence is the key. You will learn to regulate your stress physiology and become much better at nurturing joy and creativity. Your behaviors become automatic, your skills will increase and improve, and you can let go and live your life.
References
Sarno, John. Mind Over Back Pain. Warner Books, New York, NY.