I will be holding a weekend workshop this July at the Omega Institute in Rhinebeck, NY. This will be my fourth workshop at Omega. The results have been overwhelmingly satisfying.
As in the past, joining me will be my wife, Babs Yohai, who is a professional dancer; and my daughter Jasmine Yohi-Rifkin, a dancer and choreographer with an MA in psychology. Both will present effective somatic, movement, and expressive arts tools that participants can use after the workshop.
This year, also joining me will be special guest Bernie Siegel, MD, best-selling author, retired pediatric and general surgeon, and founder of Exceptional Cancer Patients (ECaP—a form of group therapy for cancer patients). Bernie has written prolifically about healing and many other topics that address life's challenges. You may know two of his most prominent books, The Art of Healing and Love, Medicine and Miracles. Over the last couple of years Bernie has inspired me with his wisdom and accomplishments. He will join us live via Skype on Saturday afternoon.
While Bernie and I use different approaches, we both share the conviction that the key to healing is connecting with our own capacity to heal ourselves. I use neuroscience to support the principles in my book, Back in Control; but the science also supports Bernie's concepts. It will be exciting and insightful to have Bernie talk about his approach and how our two bodies of work intersect.
Over the years that I've been offering this workshop, its format has evolved by applying four tools that address chronic pain: awareness, hope, forgiveness, and play.
Awareness
In order to solve a problem, it helps to understand it. For example, it is useful to know that stress created from a physical or emotional source elicits an automatic survival response, which includes the release of stress hormones such as adrenaline and cortisol. Anxiety is the feeling elicited from these chemicals. The first step in solving your pain is to recognize this link. This and other neurophysiological aspects of pain are discussed in chapter one of Back in Control; and we recommend that participants read it before attending, to get the most out of the workshop.
Dr. Siegel advises us to be aware of the role pain plays in our lives, and what it can teach us to help us heal. I strongly encourage you to read The Art of Healing. Bernie has many great stories, and I'm excited to hear what he will be teaching us at the workshop.
Hope
Many people in pain lose hope and find themselves in a downward spiral of despair. I was in that abyss for over fifteen years and became an "epiphany addict," on a desperate quest to find "the" answer. As a physician, I had access to every known solution, but not one of them brought relief. 2002 found me utterly hopeless and attempting suicide.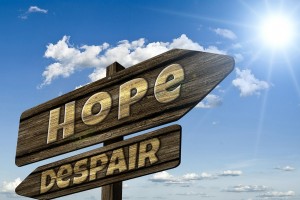 Like most of the medical profession, I was looking at chronic pain as something to be managed, and found little success in treating it. Once I finally discovered the mind-body connection, which has been supported in neurophysiological research, I learned that a combination of treatments was the answer. Now I have not only my own, but scores of success stories to share at the workshop. With the correct treatment process, solving pain is not only possible—it's probable. Chronic pain is curable.
Most patients find it extremely difficult to forgive the person or situation that caused their pain. The more legitimate one's anger, the more difficult it is to let it go. Typically, people are most angry with themselves. But as long as you hold on to anger, you hold on to chronic pain, no matter whom you are angry with. As travelers of the same neurological pathways, anger and pain sensations are tightly linked.
You must be willing to deeply forgive not only others, but yourself—down to your deepest wrongs. You may improve by using other tools in the DOC process; but you will not become pain-free until you completely forgive. Many people in pain are addicted to the power of anger and pain, and refuse to give it up. They not only choose to continue to suffer but also make the lives of those close to them miserable. If you are one of those people, this workshop is not for you.
The one goal I had when I began holding Omega workshops was that people just be with each other and share some experiences. Almost all my patients had become socially isolated, which gave them more time to obsess about their pain. I thought, after they learned and practiced some effective tools, they would go home, put them to use, and then start to experience an improvement. But one of the biggest surprises was how quickly chronic pain disappeared during the workshop. After suffering for years, many participants became pain-free during those few days.
In the workshops we create a structured environment where participants feel safe to share. As participants relaxed, a sense of play crept into the group and their pain began to abate. When this first happened it was totally unexpected! But it might have had something to do with our prohibition against complaining or discussing their pain or medical treatments during the workshop.
When participants returned home and re-encountered familiar triggers, pain typically re-appeared. But with new tools to process these emotional agitators, eventually the participants did well. One of my mentors, the coach for the University of Washington women's golf team who, by using many of these concepts, advanced them to the national championships in 2016, taught me, "Adversity is a chance to practice your tools."
Success Story: Deb
Deb was a social worker in her mid-forties when she attended our first Omega workshop in 2013. She had experienced severe, unrelenting neck pain for over four years, and tried all the traditional treatments without success. She was studying chronic pain for her PhD dissertation, thinking that it would help her solve her own pain. Deb did not fully participate in the workshop, missing a couple of key sharing sessions and staying off-campus with her boyfriend. When her condition did not improve, I assumed that was just the way it was going to be. But about ten months later she became completely pain free. Why? Deb attributes her remarkable recovery to stopping physical therapy, adopting an anti-inflammatory diet, getting better quality sleep, practicing expressive writing, and focusing on forgiveness. Not only is she free of pain; she has brought the DOC tools into her community and set up a non-profit housing project. She is a delightful, energetic, contributing member of her community.
Awareness prepares you for change.
Hope is the energy needed to begin the climb out the Abyss.
Forgiveness eradicates anger and its poisons.
Play connects you with others and transcends pain.
Step into your new life.