Dealing with Holiday Triggers
 This blog is written in conjunction with Dr. Les Aria, who is an experienced pain psychologist working in Northern California. He brings a wide range of approaches into successfully treating and solving chronic mental and physical pain.
Being triggered and stressed is so common during the holidays that it is somewhat normalized. Yet hope springs eternal and we keep gravitating back to the same historically chaotic situations. Why do some levels of crises keep happening at Holiday family gatherings? This article is written with all due respect to those of you who are socially isolated, which is devastating and magnified during the Holiday season.
There are many ways to enjoy your family and close friends during this time of year regardless of their behaviors and your stresses. It is supposed to be a season of peace and joy. Understanding the nature of the problem allows solutions.
We acknowledge the many additional stresses around the holidays that have been discussed in many venues and numerous excellent suggestions have been made. However, once you have navigated the obstacles to actually being with your friends or family, it would be reasonable to expect to relax and enjoy them.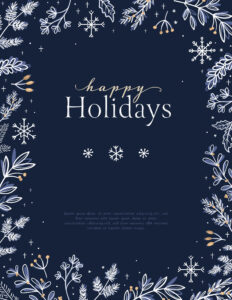 Defining a trigger
The basic problem arises from people in close relationships triggering each other. What does being "triggered" mean? We survive by learning from prior experiences what is safe or threatening. This includes your emotional states and consciousness, which are processed in a similar manner as physical threats. Many, if not most, of these mental threats are perceived and are based on cognitive distortions. It is the reason many of us have a baseline state of being "fired up."
So, anytime you feel anxious or angry, something in the present has been connected to a situation in the past that was perceived as threatening or was dangerous. Your adult brain will still process it in the same manner. You have been triggered. The problem arises from the fact that you are now in the past and not the present. You have lost awareness of the present moment, which is at the core of functional human relationships.
As your earliest and most powerful programming happens with your immediate family, they are the strongest and most consistent triggers. Close relationships are not far behind. The deeper problem is that when you are in this state of threat physiology, the activity of your brain shifts from the neocortex (thinking centers) of your brain to the lower regions (survival) of your brain and you cannot think clearly. It is not possible. So, then your behaviors or those of others may be less than ideal. What can you do? Here are some suggestions.
Dealing with triggers
The first and necessary step is to understand the problem and there are many resources that will help you understand the nature of chronic mental and physical pain. The essence of chronic disease is sustained exposure to your body's threat chemistry or in other words, being constantly triggered. Here are a few practical suggestions.
Triggers are a whole-body response to a real or perceived threat. Here are 3 behavioral/ physical cues to help you identify that you are being triggered before becoming fully activated by past family triggers.
Mood Shifts: Notice when you experience a mood shift. Do not suppress those emotions. Burying emotions alive will lead you to step on them at some point during the holidays–KABOOM!
Tension Shifts: Notice when you experience sudden muscle tension in your body. Check your shoulders right now! Left = Anxiety and Right = Anger/suppression of emotions/complaining all day long!
Breath Shifts: Notice how often you hold your breath when around certain family members. You know who they are! Are you holding your breath? Are you breathing shallowly? Are you breathing rapidly?
What are the triggers when you are around your family?
Criticism is one of the most common triggers.
Financial worries from food to travel plans.
Feeling pressured to be happy or positive
These are just a few of many triggers–know yours.
*Note: Your physiological states determine your psychological states; vice-versa.
 If you are already feeling stressed or wired, be careful. Your nervous system is "trigger happy" and you'll not only ruin your experience but create chaos for others.
Practical tips to process triggers
The details are discussed in this article.
 5. Take time for yourself. This is something we practice and preach about. Set time aside from everyone. Go for a walk before the hoopla starts if you are staying over with your family. Break away from the family during the day or when you need some space to "come back online."
Summary
Keep your perspective! Remember that you always have choices–once your brain is back "online." Keep focused on who or what is important to you. How do you wish to show up for the holidays?  Practicing the skills we discussed, especially noticing when you are triggered and doing something about it will help you keep your love, peace, and joy during the holidays.
As always –be kind to yourself. Let the Holidays begin!