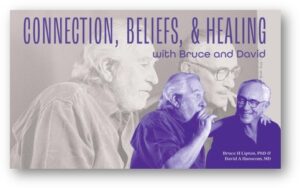 Chronic mental and physical disease are connected by a common root cause – stress. How and why?
Stress (threat) creates chemical (physiological) changes in your body (fight or flight), which creates mental and physical symptoms. When you are subjected to chronic stress, the ongoing inflammation and increased fuel consumption (metabolism) breaks your body down. Hence, you'll eventually develop illnesses and disease.
Stress kills
It is well-documented that stress kills. The Holmes-Rahe stress scale was developed in the early 1960's with points assigned to life events – both positive and negative. If your score was 300 or more, there was an 80% chance of developing a major illness within two years.1 I have a close friend that I took the test with recently. His score was 463. Guess what? He developed cancer in his spine.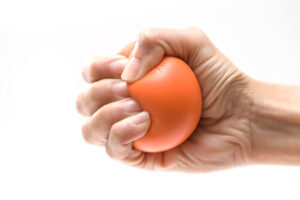 Bruce Lipton is a developmental biologist who stepped out of academic medicine in 1993 because what he was observing in the lab did not conform to the standard thinking in mainstream medicine. He understood that all life is possible because living organisms were able to transform energy into functional forms. Atoms, the building blocks of life and substance consist mostly of space and are powerful energy fields. Biologists embraced the role of quantum physics in biology in 1927, but mainstream medicine has been slow to adapt. His views have not historically been well-received, but it turns out that he was not only right but was decades ahead of his time.
Beliefs and your body
He is the best-selling author of The Biology of Belief. His work is now well-documented regarding the effects that beliefs exert on your body's physiology. Negative belief systems fire up the fight or flight response and keeps it there. The common link to chronic mental and physical disease is sustained threat physiology and healing happens when you are in safety. Here is a small sampling of some data that supports this perspective.
Dantzer in 20182 published a review on resilience. He documented the effects of stress on inflammatory molecules called cytokines. There are four factors that lower inflammation.

Optimism/ Hope
Sense of control
Positive outlook/ vision
Sense of social connection and community
Notice that when suffering from chronic mental or physical pain that all these factors are compromised – badly.
Cole in 20073 documented that chronic stress and social isolation caused the production of aggressive monocytes that he called, "warrior monocytes." These are white blood cells that attack foreign bodies such as viruses, bacteria, and cancer cells. But these monocytes also attack your own tissues.
Lisa Feldman-Barrett runs a large neuroscience lab in New England. She has documented that thoughts and consciousness become embedded in our brains as concretely as any object.4 So, each person views the world completely differently regarding threats vs safety and body's coping resources are also infinitely unique. It doesn't matter if the threat is real or perceived. If your perception of a situation doesn't match the reality, you'll have a stress response and your beliefs have to adjust for similar scenarios in the future.
Note on the Holmes-Rahe stress scale that most of the stresses are not physical. They are real because they are events for which your body has to mobilize resources to deal with them. Unfortunately, perceived stress also causes your body to be activated.
Consider ACE (Adverse Childhood Events) scores. The score is a rough measure of childhood trauma and higher scores cause inflammatory markers to remain elevated for decades.5 When you are raised in an abusive environment, you are programmed to see much of the world as dangerous, and that doesn't change unless you thoughtfully reprogram your responses.
Systemic chronic inflammation (SCI) is a state of inflammation that cannot be measured by blood tests.6 The problem arises from the breakdown of small structures in each cell called mitochondria. They are the engines whose chemical reactions create the energy of life. The "fuel" leaks outside the cell and is highly inflammatory. Over 50% of all deaths and diseases are caused by SCI. Chronic stress is one of the drivers.
Pain reprocessing therapy (PRT) is a process where patients' fears and beliefs about their pain are acknowledged and connected to the actual experience. Patients are reassured that the nature of the pain or problem isn't dangerous, and then gently taken through a process of reassurance while performing actions that would normally cause pain. By feeling safe while engaging in activities they considered risky, they are able to calm down, feel safe, and the pain decreases or resolves most of the time.7 Again, the structure of their body hasn't changed, it is their beliefs about it.
Why did Bruce and David team up?
It is clear that anxiety and anger are hard-wired automatic reactions that we have not control over. Bruce has pointed out that you might as well have a conversation with the hard drive of your computer. But he has pointed out for a while that you can reprogram them.
I have been on this course of action for a while but have not stated it as clearly as Bruce. I have seen so many "hopeless" patients heal that I am convinced that you can reprogram your brain around almost anything. Our brains are incredibly adaptable.8
Getting there
The DOC Journey course and app take you through a sequence that first teaches tools to calm down your nervous system, helps understand the principles of healing chronic disease, presents the problem of anxiety being the pain, explores awareness, teaches anger processing strategies, emphasizes repetition, and then helps you visualize and act on building your future.
The final answer to chronic mental and physical pain is shifting into joy, and where Bruce presents a wonderful picture of what that looks like.8 A significant aspect is programming in this outlook. We both agree that positive thinking can't and doesn't work. The DOC Journey course and app present practical strategies to achieve the state of consciousness that allows us to not only heal but thrive. Once you flip your beliefs to the future you want, your brain and life will follow, and it will become your reality.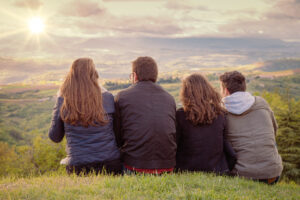 Bruce and I created this four-part video series along with a lesson plan that presents an overview of the healing journey as well as suggestions how to start. We are excited about them in that we did not realize how close we were in our thinking until we made these videos. We hope you enjoy them and welcome to your new life.
References
Holmes TH, Rahe RH. The Social Readjustment Rating Scale.J Psychosom Res(1967); 11:213–8. doi:1016/0022-3999(67)90010-4
Dantzer R, et al. Resilience and immunity. Brain, Behavior, and Immunity (2018); 74:2842. https://doi.orgl/10/1016/j.bbi.2018.08.010
Cole SW, et al. Social Regulation of gene expression in human leukocytes. Genome Biology (2007); 8:R189. doi: 10.1186/gb-2007-8-9-r189
Feldman Barrett, Lisa. How Emotions are Made. Houghton Mifflin Harcourt, New York, NY, 2017.
Dube, SR, et al. Cumulative childhood stress and autoimmune diseases in adults. Psychosomatic Medicine (2009); 7:243-250.
Furman D, et al. Chronic Inflammation in the etiology of diseases across the life span. Nature Medicine (2019); 25:1822-1832.
Ashar YK, et al. Effect of pain reprocessing therapy vs placebo and usual care for patients with chronic back pain. JAMA Psychiatry (2021); Published online 9/29/2021.
Lipton, Bruce. The Biology of Belief. Hay House, Los Angeles, CA, 2016.