For many years, I thought that for many patients there was a point of no return because the sheer magnitude of both physical and emotional trauma. I particularly felt this way with people who had undergone many failed surgeries. I was wrong and continue to hear stories of healing in the midst of scenarios that are indescribably miserable. This is one of those stories.
Hi Dr. Hanscom,
My name is Tom and I am 67 years old.
I've had 28 surgeries including six spinal operations, three heart attacks, one stroke, an attempted suicide, opioid addiction and 20+ years of debilitating chronic pain. My body is a mass of scar tissue that requires extensive stretching every morning. I've done my time in the deep, dark Abyss and yet, I have overcome each of these experiences. I'm a survivor, not a victim.
Driving home from work one night, I was rear-ended by a young teenage driver, which exacerbated an already bulging disc in my back. This one, minor accident began a chain of events that would change my life into one of endless misery, pain, and despair.
I tried every therapy I could find from surgeries, injections, chiropractors, acupuncture, drug therapies, hypnosis, biofeedback, counseling from eight different psychologists and psychiatrists, and even a healer that worked with tuning forks. No one could figure out why I was in constant, debilitating pain. Nothing worked. The only common treatment I received was a prescription for narcotic painkillers.
My whole life deteriorated as I was overcome with debilitating, chronic pain. It wouldn't go away and I talked about it obsessively. I was too ill to attend my son's baseball games and my wife and I weren't able to have any quality time together. Friends and family didn't want to talk to me anymore because I was such a "downer." I became self-isolated. I was obsessed and all I could focus on was my pain, suffering, and how I was victimized.
Things got worse. I had a stroke when I was 47 years old.
I woke up, got out of bed, and fell on my face. My left leg would not respond to commands and my thinking was clouded and unclear. For a few hours, I was temporarily blind. I also lost my short-term memory. I went from reading a book a week to not being able to comprehend two sentences in a newspaper article. By now, I was deep into the Abyss. I had lost everything, including my business and marriage. I spent my days wallowing in chronic pain and self-pity.
My neurologist kept assuring me that my brain could reprogram and I might regain my balance, the use of my leg, my reading comprehension, and some of my memory. I had my doubts, but I had nothing to lose by believing him. Over a period of eighteen months, I regained full control of my left leg. Most importantly, after a few years, I reprogrammed my brain so that I could function almost as well as I did pre-stroke.
Connection
In all of this crisis and personal implosion there was a glimmer of light. I reconnected with my high school sweetheart, Patty. We had broken up when we were 21 and had gone our separate ways. She found me on Facebook and we reconnected 10 years ago. We've been inseparable, ever since. Patty and I are a team. She is my soul mate to whom I owe my life. Patty was the one who called the medics when I attempted suicide. And it was Patty who never gave up on me, although I gave her plenty of reasons to.
I attempted suicide not because I wanted to die, but because I couldn't stand the physical pain of living any more. When my suicide attempt failed, I was faced with the reality that I'd quit trying to get better. I started to listen when people said my life still had some meaning and that I meant something to others and those in my family. I decided that any life, even one full of pain and suffering, was worth living. I told myself I would never give up again.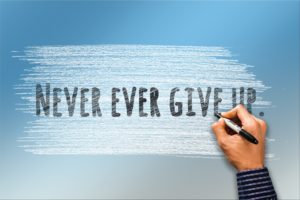 "I'm done with this"
I made the decision to quit narcotics and find a solution for my chronic pain. I didn't think there was a cure, but rather a better approach to cope with it. I started calling clinics and caregivers across the country looking for relief. I discovered your project and that of another doctor, the late Dr. Peter Przekop in Palm Springs, with whom I spent a month.
Under Dr. Przekop's care, I learned how to meditate, and through that practice, I experienced a profound recovery while in an altered state of consciousness. However, I was still feeling pain and prior to reading your book, was convinced that I'd never be pain-free.
The tipping point occurred when I started reading the "Stories of Hope." When I first picked up Back in Control, I was focused on other people's stories of hope, pain, and suffering. I perused these types of stories because I wanted to confirm that my pain and suffering was worse than everybody else's. However, as I read their stories of pain, suffering, and recovery I started to realize that the solution was within me. It was up to me to resolve myself. I started to ask, "What can I do for myself that the doctors couldn't?"
Taking charge
Through The DOC Journey I finally figured out that I was going to heal myself. I was done waiting to see what "they" were going to do to help me, how were "they" going to fix my pain. Drugs, injections, surgeries, and therapy were not going to cure me – I was.
In the long run, my stroke was actually a blessing rather than a curse. I had first-hand success with neuroplasticity and knew that the process worked. While I had doubts about the power and influence anger was having on my chronic pain, I knew that I could reprogram my brain.
Expressive writing forced me to accept that regardless of my chronic pain and suffering, I was still accountable for my words and actions. I wrote about my wounds, demons, and downfalls. I wrote about all of the people who had caused me anger and earned my scorn. Expressive writing helps me manage my anger and frustrations as I "shred and shed them" each morning.
I learned to forgive and move on, which helped to cleanse me of the anger I had built up inside of myself. I forgave my dad, the teenager that crashed into me, and the neurosurgeon that erred. I came to understand that the anger inside me was preventing me from moving on with my life.
Choosing not to remain a victim
To this day I have resolved to deal with my anger head-on, without delay. Anger is inevitable, but allowing it to poison your life by hanging on to it is a choice. I have elected to take responsibility and control of my "pain circumstances."
It was absolutely critical to my recovery that I learned to control and manage my anger, learn forgiveness, and be compassionate towards those I resented. Once I learned to forgive and forget, I become unstuck and was able to move on.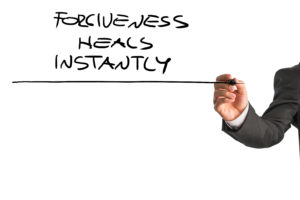 Physically, I haven't felt this good since before I was hurt 30 years ago.
From reading Back in Control, I have learned to use the principles of active mediation, expressive writing, anger management, daily walks, yoga and swimming as daily endeavors. I got a second chance to live my life, to repair the relationships I'd damaged, and become a survivor – not a victim.
I did not elect to be in pain, but rather I elected to not be in pain.
Best, Tom
He is The DOC Journey
His story gives me a lot of hope. I always chose to give every patient that walked through into clinic my full attention and to work with them. However, down deep I would not have had much hope for improvement for him with this amount of trauma. I certainly would not have expected this kind of a turnaround. If you look at his story, he engaged with every concept presented in the DOC process. It is not a self-help program but rather a framework to break the parts of your pain into smaller components, and people find their own way out.
He and I have now met and connected and he is looking forward to giving back, which is also an important aspect of healing.
I could write a book about all the aspects of escaping pain that are illustrated by his experience (I guess I already did). I just want to highlight two of them. The greatest obstacle to solving pain is your unwillingness to engage in any part of a healing journey. The DOC process is just one possibility. One my successful patients made a comment that he had to, "Suspend disbelief" to embark on his journey.
The second point is that the tipping point of deep healing is always processing anger through forgiveness. This is not a philosophical issue. It a matter of deciding to take full responsibility for every aspect of your life. Anger is the last ditch effort to regain control to survive and your stress hormones are through the roof. The mental and physical toll of living with anger at your core is horrific. One of the clearest parts of his story is him deciding that he was done living like he was and he decided simply to take his life back regardless of where it took him.
His story is remarkable, but not unique.