This story is from a woman, who I met at our first Omega workshop in 2013. I was holding the workshop with Dr. Fred Luskin, who is a Stanford psychologist and author of Forgive for Good and also my wife, Babs Yohai, who is a professional dancer and taught rhythm to the group. The cup song I was not completely sure what to expect at this workshop and was shocked when so many people experienced a profound shift in their outlook and pain. She wasn't one of them and I just figured that the process wasn't for everyone. She was so desperate for a solution that she was basing her post-graduate education on chronic pain. Much to my surprise, she broke out of her pain cycle about 10 months later. Here is her story.
Searching for an answer
A few years ago I had a great deal of stress that landed in my neck and I couldn't find any relief anywhere for more than 18 months. I saw many professionals – spine surgeons (no structural issue); chiropractor (looked like chronic whiplash symptoms), occupational therapist (recommended diet changes, flats, exercises, saunas, massages) and physical therapist (heat treatments, TENS treatment, exercises, massage) and nothing was working. In fact, when I went to the chiropractor he snapped my neck without asking or explaining prior to doing it and I felt an electric like shock feeling go through my back. For the next 10-12 months, I now had not only neck pain but a deep ache going down both arms. My sleep was disrupted, I was tearful, struggling with focus at work and I didn't want to do anything.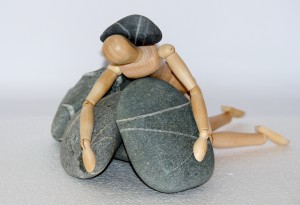 Omega workshop
I shared my struggle with Dr. Fred Luskin, who shared Dr. Hanscom's book, Back in Control, with me. I started to implement some of his suggestions with the first being focusing on improving my sleep. I attended the Omega training shortly after and learned more about the impact of stress and the mind-body connection. I saw others improving before my eyes and yet I found myself being miserable. I could hardly sit through the classes and was edgy and irritable but determined to learn.
It took another few months but by addressing the stress, improving my sleep, and taking glucosamine I have been pain-free for a number of years. What is even better than that is that when I feel the neck muscles tightening from either stress or behaviors (too much computer work), I can focus on getting good sleep, anti-inflammatory diet, add the glucosamine back in and now avoid major relapses. In fact, once I recovered I have never reached the same level of pain again.
Moving on
I have been so impressed with Dr. Hanscom's work and insights into the mind-body connection that I have been focusing my PhD studies in Mind Body medicine on chronic pain and stress management. I now share the tools that I have learned and the Back In Control book with every client I work with who struggles with chronic pain.
I will be forever grateful to Dr. Luskin who led me to Dr. Hanscom and Dr. Hanscom for putting his understanding out to the world. As I have heard him say many times, "If you calm the system down surgery may no longer be necessary. If surgery is necessary, calming the system down before the surgery has much better outcomes." Prehab
Thank you Dr. Hanscom for looking out for the greater good and not the bottom dollar. Hospitals and pharmaceuticals would prefer pain management but the DOC (Direct your Own Care) can significantly reduce pain and in some cases even cure without all the negative side effects.