Objectives
Mental rigidity is a transdiagnostic process that spans many mental health diagnoses
Creating mental flexibility may be an important early intervention in successfully treating them.
The need to suppress unpleasant thoughts is a driver of this process.
Creating mental flexibility is challenging in that people must be trained to tolerate and process unpleasant thoughts.
Mindfulness Based Interventions (MBIs) have been shown to decrease mental rigidity.
Another form of suppression?
Mental rigidity is a variation of suppressing thoughts in that you will allow yourself only certain sets and types of thoughts and emotions. You don't allow yourself to feel so happy or sad. Your emotional bandwidth is limited and can be compared to a bowling with rubber bumpers in the gutters. This may work to a large degree, but since you are constantly monitoring your thoughts, it is difficult to see and hear messages from others. You are unaware, which is at the core of abuse. Seeing and meeting only your needs causes one to behave in a manner that may hurt and damage others. Also, mental inflexibility is a common trait shared by many mental health diagnoses.1
It gets worse. Rigid thinking around belief systems creates deep circuits in your brain ("stories") that detach you not only from others but also the needs of society. These obsessive thought patterns seem "normal" to a given person. And when your brain is ruminating on these circuits, you have largely "crowded out" unpleasant repetitive thoughts. So, it is helpful for you, but not so much for others. Inevitably, there will be conflicts with those who have differing patterns of rigidity that are not subject to rational conversation. The perverse aspect of this is that the ensuing angry conflicts are powerful, further mask anxiety, and are addicting. Why would you want to give up the power of anger to feel anxious. Maybe it is your energy source that drives you to be "successful?"
Rigidity can revolve anything. Religion, politics, business, race, social class, personal opinions, noble ideology, and sports. The opinions can be small or global. They manifest as rhetoric (labeling), which completely covers up the real issues or specifics of who a person it.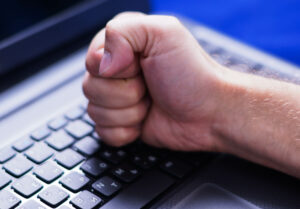 elit76_d/ AdobeStock
Reactance
It gets even darker. We will do almost anything to avoid or escape from the relentless barrage of negative thoughts. The science shows that thoughts and concepts become embedded in our brain similar to us defining any physical objective.2 In other words, these fixed ideas become our life lens or world view. At some tipping point it hardens, and a phenomenon happens called "reactance." This is a basic known fact in the marketing world.3 Facts never change one's opinion. If they agree with your views, they are reinforced. However, when are not in agreement, you'll reject them as invalid, and it strengthens your perspective even more. The more concrete your world view, the more definitive your actions will be to defend it.
The darkest aspect of it all is that many people feel the strength of their convictions (stories) to the point that they have the right, even responsibility to impose it on others. Hence, the outcome is extremely bad actions that occur both at a personal and world level.
We all have some aspect of this trait in that we feel that our perspective is the correct one, and we'll freely be critical of those who don't meet our "standards." We may just think it or take varying degrees of action. Regardless of what you do, you have now lost awareness of the details of another person or situation. How can you act or react in a productive/ proactive manner?
Abuse
What about being raised in a dysfunctional or even abusive family? Your life lens is created from a hostile and dangerous environment. Going forward, you'll constantly be in high alert similar to a feral cat. This environment creates a terribly destructive life view that also becomes stronger over time – unless you actively reprogram it.
The essence of abuse is not being aware of other's needs. Rigid thinking takes unawareness to the highest level. It is often couched in seductive rhetoric. People in power understand the power of simple repetition and can program in anything they wish, regardless of whether it is logical or true.
The disease blocks treatment
How can this be solved? One of the most perverse aspects of the problem is that essentially all mental disorders are manifestations of chronic inflammation and other aspects of threat physiology. It this state your brain is inflamed, your neocortex (thinking regions) become less active, and it is challenging to open up your mind to new learning. Additionally, the rigidity also compromises awareness and curiosity.
Recent research has demonstrated that Mindfulness-Based Interventions (MBIs) are effective in increasing the connectivity between regions of the brain that define self. The term is the "Pattern Theory of Self." Alterations that affect the dynamic interaction, are a factor in creating mental rigidity. The effects are manifested in many psychopathologies.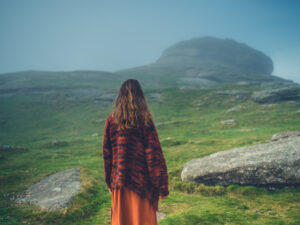 By increasing the functional connectivity in regions connected with a sense of self and decrease the activity in interpreting the self's relationship to the world, mental flexibility is increased. Indeed, MBIs are documented to more effective than many "gold standards" of psychological treatments.2
Chronic mental and physical illness and diseases are complex, and one type of intervention alone would not be expected to be a solution. However, MBI's promise to be an entry point in breaking through the barrier of anger and rigidity to pursue a truly healing process. Many, if not most, chronic diseases are curable or at least can be halted. Research is beginning to offer real solutions.
Recap
Repetitive unpleasant thoughts (RUTs) are a driver of mental rigidity. It is a form of trying to control thoughts that is a common thread across many mental health diagnoses. Decreasing mental rigidity is a target for improving mental health interventions. It has been documented to be effective both clinically and with brain imaging. Mindfulness based interventions (MBIs) are a category of interventions that are effective in improving mental flexibility; and are potentially an entry point for effective solutions.
References
Giommi F, et al. The (in)flexible self: Psychopathology, mindfulness, and neuroscience. International Journal of Clinical and Health Psychology (2023); 23:100381. https://doi.org/10.1016/j.ijchp.2023.100381
Feldman-Barrett, Lisa. How Emotions are Made, Mariner Books, 2017.
Berger Jonah. The Catalyst. Simon and Schuster, New York, NY. 2020.