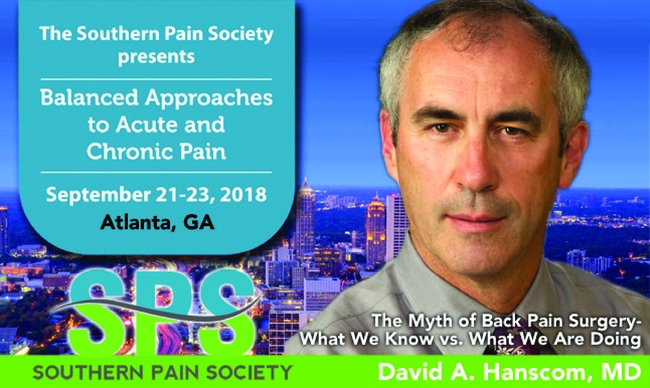 The Conference, held at the Sheraton Atlanta Hotel, September 21 – 23 as part of SPS's 32nd Annual Meeting, will examine controversies in chronic and acute pain and managing the opioid epidemic that is affecting patients and healthcare practitioners alike. Attendees will be provided with practical, exportable solutions that can be immediately implemented in daily practice.
We have a fabulous lineup of speakers including David Hanscom, MD from Swedish Neuroscience in Seattle, WA. Dr. Hanscom is internationally known in his field. Visit HERE for more information.
In addition to Dr. Hanscom the Conference features other nationally and internationally known speakers from prominent pain management practices across America, including Sanford M. Silverman, M.D. with Silver Lining Medical Consultants in Boca Raton, FL; and Atlanta's own Erik Shaw, D.O. with Shepherd Spine and Pain Institute.
The Southern Pain Society is offering free registration to their annual conference in Atlanta this September to the first 100 students, fellows and residents to sign up at bit.ly/SoPain2018FREE.
A 2-for-1 registration offer is also available for professionals from the same organization registering at the same time. Contact [email protected] for more information.
About the Southern Pain Society
The Southern Pain Society was established in 1986 as a regional section of the American Pain Society and endorses and supports the mission and goals of the American Pain Society. The Society's missions are to serve people with pain by advancing research and treatment and to increase the knowledge and skill of the regional professional pain community.