We are introducing you to The DOC (Direct your Own Care) Journey. The first leg of the journey is a series of emails intended to start your healing process, weekly webinars to answer questions, teaching videos, and the app will available in mid-November. It is different in that it is an experiential app that will take you on a guided tour to teach you concepts and tools that will allow you to feel safe.
Chronic pain is one of many symptoms your body exhibits when under constant threat because you will respond with stress hormones and inflammation. The threat can be real or perceived. Mental threat is the much bigger problem since it is usually sustained and your body will begin to break down. Once you train yourself in the skills to feel and be safe, your life will change and creativity and play are again a reality.

Click here to subscribe to the DOC Journey app 
Although, I have learned about many aspects of chronic pain since my own journey began suddenly in 1990, several core principles have remained constant.
Chronic pain is solvable. It is not something that you "have to live with." I am constantly amazed that the severity of suffering that can be reversed relatively quickly.
The journey always begins with expressive writing. You can improve without it but it is rare to see someone really heal without engaging in it.
With engagement and implementing your own version of the DOC Process, healing happens most of the time. But you do have to learn and implement the tools.
Almost everyone experiences the dramatic shift in pain and mood when they understand deep forgiveness and let go.
The final phase of play, giving back and regaining your life perspective creates an alternative sets of brain circuits that are far-removed from pain.
It truly is a journey. You can't will your way out of pain. It is not about mind over matter or positive thinking. It happens with awareness of where you are, understanding the nature of the solution and moving forward toward the life you want. The DOC app reflects this sequence and will guide you along a path to healing. It is based on our success of our workshops with the sequence of awareness, hope, forgiveness and play.
The DOC journey includes:
Weekly webinars until the app is released.
Regular emails sequenced to start you on your journey.
The app is creative and entertaining (my wife, a professional tap dancer stepped in) as well as informative. It is based on what we have learned in our workshops, which have been so powerful.
There will be a series of videos in the "toolbox" that concisely address in some detail the areas that are consistently challenging along the way.
Access to having your questions answered on a Q&A session every Tuesday and Thursday at noon PT. Just click on this link.
The most important concept is that you cannot "fix yourself." Your attention is on the problem and not the solution; the pain circuits in your brain are reinforced. This app will create an experience that will lead you away from pain to the life you have always wanted. It addresses the frequent question of, "What do I do next?"
It is incredibly rewarding to not only watch patients without hope heal but thrive at a level that they never dreamed possible.
Click here to subscribe to the DOC Journey app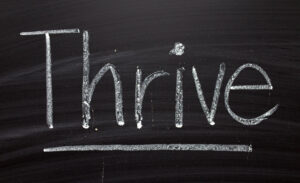 Hollie's story
I started having migraines during my adolescence.  I was a busy teenager involved in several social, academic and sports activities. I started working part time by age 14. I was always pushing myself to do and be more. This is a continued pattern that contributed to my pain as it intensified for the next 23 years.
My pain was initially infrequent. As I approached my mid 20's, I was under the regular care of a neurologist. An MRI showed brain lesions indicative of a stroke. I began taking medication to treat and prevent migraines. I maintained a successful career, a busy social life, and an intense workout regimen.
I was in chronic pain by my 30's. I had 3 car accidents that each injured my spine. My migraines were daily. My back, neck and head were in constant and severe pain. I was diagnosed with nerve damage and a syrinx in my spinal column. I had constant nerve pain and began to lose function in my hands and feet. In my search for relief, I was treated by many caring and well-intentioned doctors. I continued to work and raise my two sons. I found occasional relief in my yoga and meditation practices.
Looking back, I realize that I had no idea at that time that physical pain and emotional pain are processed similarly by the brain. I did not connect my emotional pain to my physical pain. As a young adult, I was physically and sexually assaulted. I ignored my emotional pain by pouring myself into my career and raising my two sons. At age 37, I lost my daughter to a stillbirth. I was devastated. I feared that I would never be free from the pain that had grown to consume my days. I knew that I could not let chronic pain dictate the quality of my life. In my search for a non-traditional cure, I attended the DOC workshop at Omega Institute in Rhinebeck, NY. It was there that my pain went away. I was overwhelmed with gratitude. I had only hoped to learn how to live with pain. I never expected relief from my pain.
My life began to shift tremendously in 2014 during the DOC retreat. It was there that I learned about the value of forgiveness and play. I began my daily journaling, which I still do today. I let go of the guilt I carried about my daughter's stillbirth. I forgave myself and others for past grievances. I received tremendous support from David Hanscom, Babs Yohai and the group of attendees. I built friendships that are still going strong over six years later. I was reminded of what it is like to wake up with hope instead of pain.
I learned about how chronic pain works. I decided that my life would no longer include chronic pain. I understood that the cure to my pain was up to me.
Some of the pain returned when I left the DOC retreat and returned home. I began to make substantial changes in my life which contributed greatly to the end of my chronic pain. I changed careers and ended my marriage of 12 years.
Since then, a mild version of the pain occasionally resurfaces when I encounter highly stressful events or work out too much. I now have the tools to manage my pain. I choose how I experience and respond to the challenges in life, including pain. The diagnoses from the past stay in the past. Today, I live an incredibly happy life full of gratitude and free of chronic pain!
Final thoughts
Hollie's experience at Omega was remarkable. When she shared her story of healing with the group on the third evening of the week, we were moved to tears. She had written a short letter to her stillborn daughter the day before and within 24 hours her chronic pain ordeal ended. We were speechless. It was an unexpected turn of events for everyone.
After Omega, she experienced some additional rather extreme life stresses but she had the tools to weather them. She also represents a typical story in that once your brain has experienced this degree of feeling safe and content, somehow you'll always be able to continue to reconnect to this state.
Welcome to the DOC Journey and your new life!
Click here to subscribe to the DOC Journey app