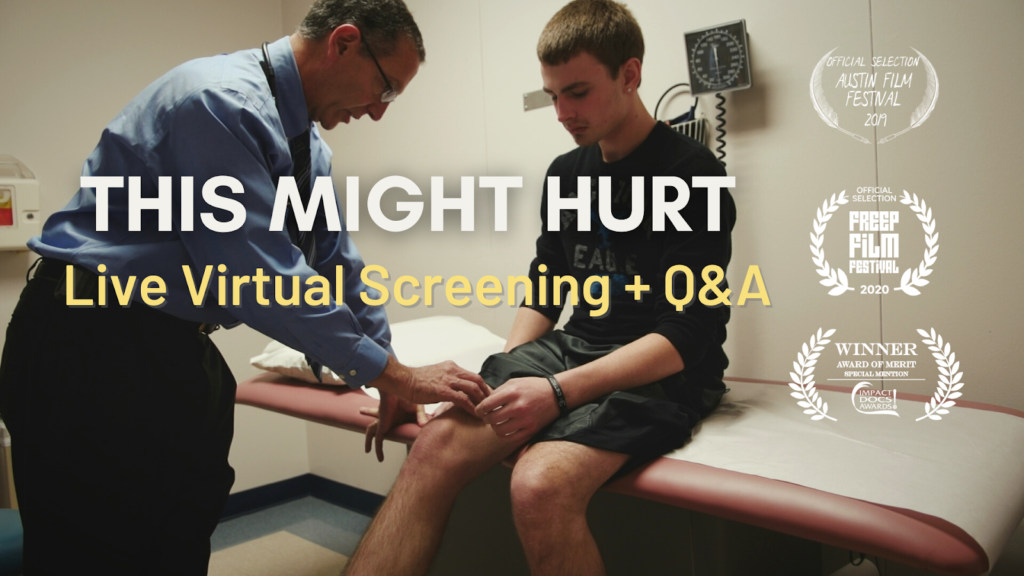 Join us for the digital premiere of the feature film THIS MIGHT HURT! An official selection of the Austin Film Festival, This Might Hurt is a documentary that follows Dr. Howard Schubiner as he works with several chronic pain patients using a new treatment for calming the nervous system and unlearning pain. Over several years, through ups and downs, each patient makes astonishing discoveries about the nature of their pain.
We're thrilled to present this live virtual screening, which will make for a powerful collective experience.
THIS MIGHT HURT: Live Virtual Screening with Q&A w Dr. Hanscom + Dr. Schubiner
January 17, 7 pm Eastern Time (4 pm Pacific) 
Watch the trailer and sign up for the screening here.
Use promo code PAINSUMMIT for a 100% discount
PLEASE NOTE: This program will broadcast live at 7 pm ET. You will not be able to pause or rewind. If you join late, you will miss the program.
This film is presented as part of a conference at the Open Center — SOLVING CHRONIC PAIN SUMMIT: A NEW PATHWAY TO RELIEF. After the screening, there will be a lively Q&A with Dr. Hanscom, Dr. Schubiner, and the directors. The discussion will be geared towards clinicians in the field of chronic pain, but all are welcome!